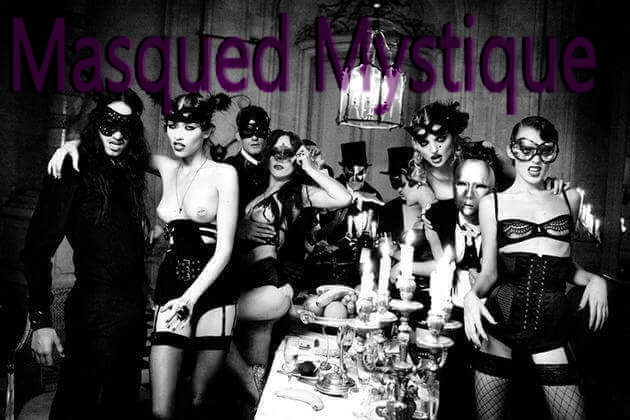 Q Is this another Masqued Room?
A: Yes!
Q: Seriously ..Another Masqued space?
A: see above! yes, it is a masque space for adults to act like adults and treat adults like adults. Besides, how many BDSM rooms are there? If you want Drama... we recommend Netflicks!
Q: IS this the original idea for a masque space which one claims is theirs while some claim is theirs but others say they were there first before them ?
A: we like to think we are very original people. If there aren't enough masks to go around, well Halloween is just around the corner!
Q:Why the name A Masqued Mystique?
A: We want it to be about engaging people with others. This space has no walls.. It is the dynamic of interaction between 2(or 3 ..or 4) that dictates what goes on. Hopefully there is some mystique in that!
So what makes this room so different?
A: we kinda like to think there is a niche making a return to no pming and .. unadulterated good fucking with a sense of familiarity. we like to think of it as climbing the scening ladder!
Q:But that doesn't seem to make it that much different?
A: its the secret ingredients!
Q:So What Rules are there?
A: All chatropolis rules apply . Must be over 18.. and act your age..*W*.
Q: So will there be private messaging?
A: No we like to think we are an open book
Q: ok.. but which dropdown is not marked whisper but is a whisper.
A:None!
Q: Do you serve Vanilla?
A: We are a very accepting group!. If its vanilla you like , bring your own!
Q. This is the Underground. if i chat here, will i be turned into some kind of werewolfy vampirey slavering hellbeastie thingy from the pit of Hades?

A. No. Definitely not. You may turn into something, but we can't promise what. But definitely not that.



Q. But i WANT to turn into some kind of werewolfy vampirey slavering hellbeastie thingy from the pit of Hades!

A. Oh. Well this is the Underground. There are plenty of rooms to cater for your whims. We suggest you take a look at the entry pages of the surrounding rooms to find your home.
Q. Alright. So now i know what you're not. Can you tell me exactly what you are, then?

A. We are Mystique. Try it. Say it. Myyyyyyyyssssssssstiiiiiique. it feels good on your tongue, doesn't it?.....Ahem. That is us, and we are all about bringing the fun, frivolity, and fantasticness back into masked chat.
Q. Hi. i'm a relatively sane, reasonably intelligent adult who enjoys chatting, laughing, sex and life and just wants a fun place to chat online when i can. Can i chat here?

A. Welcome! Come join us in A Masked Mystique. Enter It. Say It. Mystique. Masks. You know you want it. We're putting the "eek!" back into Mystique.



Q. Oh. Are you also putting the ass back into Masked?

A. Um, no. There are enough masked asses running around elsewhere.